Do you use Essential Oil Diffusers?
Posted on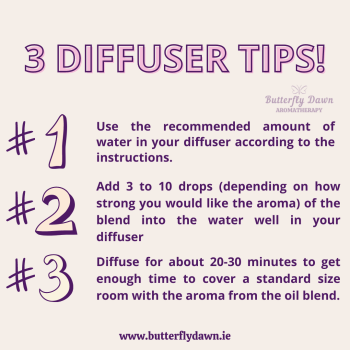 I used to use oil burners a lot, but I find now with a 7 year old and a crazy dog, diffusers are safer!

It is safe to use a diffuser and inhale the aroma from the oils (people have been asking me this), however, I have it on my website that less is more!
I advise to use the recommended amount of water in your Diffuser, according to your instructions. Add 3 to 10 drops (depending on how strong you would like the aroma) of the oil blend into the water well in your diffuser to diffuse oil throughout the room.

Diffuse for about 20-30 minutes to get enough time to cover a standard-size room with the aroma from the oil blend.

I can create blends for anxiety, to de stress, an uplifting blend, one to help you sleep, a blend to boost your energy levels or one for whatever your needs are.
Be vigilant if you have pets, especially cats, that you are diffusing oils that won't make them ill.
You can find my range of diffuser blends here https://bit.ly/essential-oil-diffuser-blends